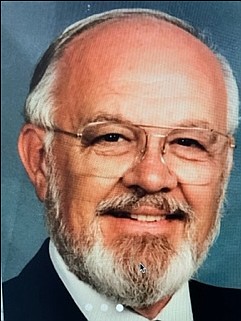 Donald Wayne Waddell, 96 SERVANT OF GOD left his body to the University of Arkansas Medical School as his soul
soared through the thin veil we call "heaven" on Dec. 19, 2022.
Standing by him were his pastor- James Kjorlaug, best friend-Dr Larry Wright, a daughter, Rebecca and his wife, Constance who
bent down and sang "Always" to comfort his struggled breathing, Don forced a response with three Hums– hum, hum, hum.
The nurse spoke in soft words: "He's singing to you!" and then he passed away.
Don's extraordinary life began Aug. 16, 1926 in Oakland, Calif.
The next day, an earthquake rolled his crib across the room bumping into his mother's bed and foreshadowing his experience with the largest earthquake in recorded history in Chile. From early years, he had a love affair with plants. Earning a degree in horticulture from Texas A & M prepared him to serve 20 years in Chile as an Agricultural Missionary after serving as a U S Marine in China. There, his task was to guard huge containers of food while there were people around him starving. A little Chinese boy, bundled against bitter cold, came and marched with him. One morning Don stumbled over his tiny frozen body. He vowed to God that he would find some way to "feed the world."
Assigned to El Vergel, at that time the largest nursery in Chile, he
and his wife Martha began their lifelong love for the Chilean people. Don became director of the Boys Agricultural School, worked with Mapuche Indians to upgrade farming techniques and, although he had not planned to be a pastor, learned Spanish and preached every Sunday. Once he served four churches at the same time having charge of the reconstruction of 12 churches and parsonages damaged by the earthquake. Don and Martha were proud of their two red headed daughters –striking among Chileans' – and deeply proud of their little son, On a furlough to the U S Don earned a seminary degree at Vanderbilt and then returned to pastor the second largest Methodist church in Temuco, Chile. E Stanley Jones chose Don as his translator, while visiting Chile. 
Back in the states, Don was Senior Minister for many churches in the North Texas Conference. He initiated building needed Church sanctuaries or chapels He was named District Superintendent of the Central and later Metro Districts in Dallas , He developed the East Dallas Cooperative Parish to save a group of struggling churches and also, created space in different churches for a Korean, Filipino, and Vietnamese congregation. He championed Women Ministers appointing several during a transitional time. Don continued planting trees and flowers and gathering seeds wherever he went. 
The Chilean delegation at General Conference urged him to return to Chile. But. through prayer, he knew he could not because of his wife's worsening illness. After her death , he married Constance and became the father to her son, Tim. Don retired five times: as Administrator of Jurisdictional Mount Sequoyah; El Vergel Chile; Pastor:Yellville Circuit; Founding pastor of First U M C Rogers; El Tabo,Chile; ( There three workteams from FUMC and Central UMC helped restore a retreat center closed during the dictatorship.) The Waddells made their final home, Rogers and their beloved FUMC.
Don's loved family:The late: Martha Stewart;Constance Norton Children:Betsy(Larry)Brown; Rebecca Busby; Paul Waddell(Ari); The late:Wen (Elizabeth); Wes(Louise); A D(Patsy); Tim(Sarah Beth) Norton; Daughter in law: Firouzeh Nourzad. Grandchildren:Alex and Lauren Brown; Bryn(Scott)Tucker; Kaveh(Bree) and Kian Waddell; Kristan (Russell)Turns; Peter(Katharine);Phil (Diana)Norton;Vanessa
(Tim)McKuin. Great Grandchildren: Matthew(Meagan)Gardiner;
Emily(David) Green; Lauren(Ryder)Wilkerson; Michael and Natalie Tucker; Bella(Anthony)Spinelli; Silas McKuin; William and Lucas Norton; goddaughter, Danielle Puryear; great great granddaughter, Lily Green.
MEMORIAL WORSHIP SERVICE will be at First United Methodist Church Rogers, at Ten A M . Jan. 21. At 9:45, Kaveh Waddell, grandson, will play a prelude of Don's favorite classical music.
In Lieu of flowers, Memorials may be made to FUMC Rogers.